Ultraheat Planal Vertical 2000 Radiators - Ultraheat Planal VPS Vertical Flat Panel Radiator Single Panel Single Convector 2000 X 700 BTU 3941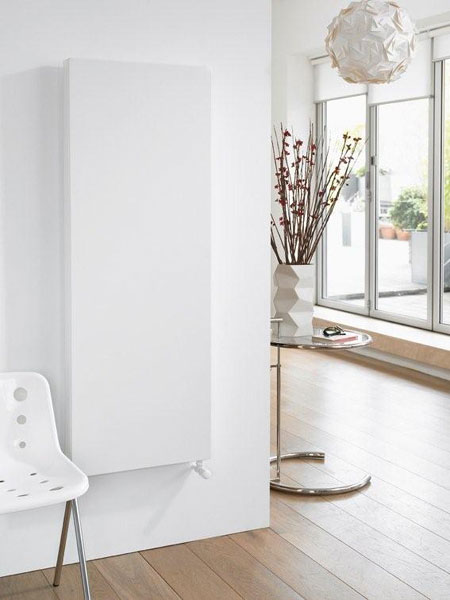 Ultraheat Planal VPS Vertical Flat Panel Radiator Single Panel Single Convector 2000 X 700 BTU 3941
Price:
&pound 334
excl. VAT
Price with VAT:
&pound 400.80
Ultraheat Planal Compact 6 style radiators are ideal for modern living rooms or offices where the look of your choice can be easily extended across a flat, smooth vertical & horizontal mounted heating surface.
There is also a range of horizontal & Vertical mounted Planal radiators. Please ask for further details. Style and comfort.
Ultraheat Planal creates the mood Every radiator is manufactured with 1.20 mm thick rolled steel, well within British Standard 1449, Part 1, and assembled under the most technically advanced processes. Every radiator is tested at 10 bars with pressure testing above normal BS EN 442 levels. Ultraheat range of Planal radiators offer a wide choice of sizes and convection types, all able to be fitted easily and customised in appearance to suit every room that they heat. Every bright, white, Ultraheat radiator is individually supplied in strong protective packaging everything is included inside the pack so it's easy to assemble and fit. The wall mounting system is strong yet allows easy removal for wall painting and wallpaper decoration.
Factory fitted grill and side panels. Elegant design with rounded corners and smooth edges. High quality paint finish in white-RAL 9016 & 10 Years Guaranteed

Heavy duty packaging including 1pc of 1/2" chrome plug, 1pc of 1/2" chrome air-vent each with rubber O rings & concealed wall brackets.

Read More
Read Less
Product specification not available.